9735 Commerce Circle
Kutztown, PA 19530
United States
Company Established In
1963
CATEGORIES & HEADINGSdetails >>
Palram Americas is a leading global manufacturer of semi-finished extruded thermoplastic sheets, panel systems and finished products. With over 50+ years of expertise in the industry, Palram Americas has established manufacturing, distribution and sales operations across seven continents and 120 countries around the world. Using state-of-the-art manufacturing and inspection systems, Palram produces Polycarbonate and PVC sheets for a diverse range of applications in various markets, including construction, architectural projects, advertising, DIY, agricultural, glazing, fabrication and security.

Palram's polycarbonate sheets specifically designed for the security industry include: PALGARD™, a UV and abrasion resistant sheet that resists physical abuse, vandalism, and graffiti due to its robust combination of physical and chemical properties. It's virtually unbreakable, yet lightweight and provides up to 90% light transmission. The PALSHIELD™ product line of containment and bullet resistant polycarbonate glazing is engineered to meet various levels of ballistics and forced entry test standards. Its layered structure and no spall design will withstand both physical attack and multi-shot assault while the abrasion resistant coating ensures long-term clarity.

Both Palgard and Palshield products conform to the forced entry standards of ASTM F1915-05 Security Glazing. The sheets are ideal for security glazing in prisons, detention centers, government facilities, kiosks, transaction windows and other areas where security is a concern.

Vendor Showcase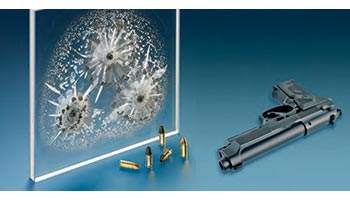 Palram Americas' PALSHIELD™ product is a containment and bullet resistant polycarbonate glazing. PALSHIELD is engineered to meet the requirements for ballistics and forced entry test standards as outlined by ASTM, HP White and UL. Its layered structure and no spall design will withstand both physical attack and multi-shot assault, absorbing the entire impact energy without shattering or spalling. Nearly half the weight of glass, PALSHIELD also features an abrasion resistant coating to ensure long-term clarity and resistance to yellowing.





PALSHIELD polycarbonate is an ideal product for security glazing in prisons, detention centers, government facilities, public institutions, banks, and drive-up windows. read more